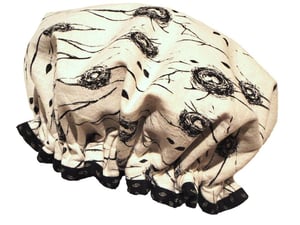 $

30.00
Pre-purchase your place in the "Handmade Shower Cap" craft lab at the Melbourne Stitches and Craft Show in May 2010.
Course description
Machine sew the ultimate bathing accessory. Your handmade shower cap will be constructed from a gorgeous Pippijoe print (outer), nylon (inner), bias binding trim and a little love.
Fabric
Pippijoe produces beautiful limited-edition hand screenprinted fabrics in Melbourne, Australia. The fabric you use will be either a cotton-linen or cotton-hemp blend. Upon payment, you will be able to confirm which print and colourway you wish to use for your shower cap. Prints on offer will be selection from the range at www.pippijoe.com.
Cost
The cost is AUD$30.00. The course fee includes the session and all materials.
You can book and pay via PayPal here (select date and Add To Cart below)
- or -
Alternately, abandon your shopping trolley here and e-mail me directly at bookings@hoppobumpo.com, to book and arrange to pay by Direct Deposit.
Limited places will also be available on the day (bookings at Book stand i15, Pippijoe).
Time and location
10:30am - 11:30am
2 sessions to choose from
Wed. 5 May or Sat. 8 May 2010
Caulfield Racecourse
Gate 2, Station Street,
Caulfield Victoria 3145
Like more information?
For more information about the craft lab, please contact Liesl before 4 May 2010 on 9873 0885 or via e-mail at bookings@hoppobumpo.com
For more information about Pippijoe textiles please visit www.pippijoe.com